Deployment
Currently servicing B170
Fees
INIT. Freight is operated by tireless nerds who work endlessly to move your stuff all over New Eden.In an effort to keep us all from going gray early in life INIT. Freight may at it's discretion impose fees for incorrect contracts.Fees will be applied on a case by case basis and shall not exceed 100m isk per incident.If you wish to dispute a fee imposed by one of our haulers contact us on discord.
Collateral
For your safety collateral is required for every contract.
It may not exceed 30b for any one contract, and should be set at the approx. value of the items you wish us to transport for you.
No assembled containers!

Please, do not include any kind of assembled containers in your courier contracts! This includes plastic wraps from other courier contracts. It will result in your contract being cancelled or delayed.
Accept in: 7 days
Complete in: 7 days
Minimum reward: 5m ISK
Contract to: INIT. Freight
Active routes
Locations
Rate (ISK * m3)
Max volume (m3)
A
B
(from A to B)
(from B to A)
(from A to B)
(from B to A)
Jita IV - Moon 4 - Caldari Navy Assembly Plant
🡘
B17O-R - Fountain Of Life (The Fuel Cartel.)
550
550
340k
340k
Step 1: Select the items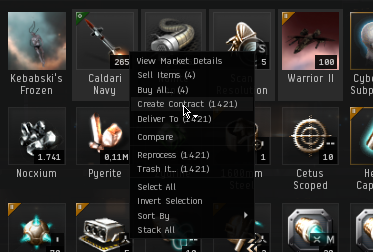 Select the items that you want to move from your hangar, and click on the "Create Contract" option in the dropdown. No assembled containers, and remember the limit of 340,000 m
3
Step 2: Assign the contract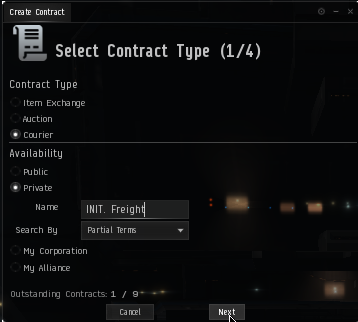 Select the "Courier" contract type, and assign the contract privately to the freight corporation (in this case, INIT. Freight)
Step 3: Double-check the items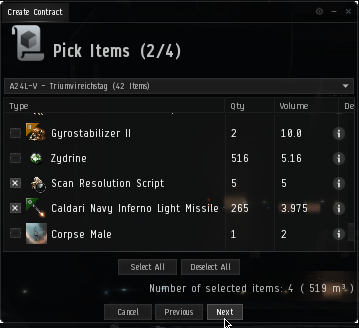 Make sure that all the items that you want to get moved are selected.
NO ASSEMBLED CONTAINERS, and remember the limit of 340,000 m
3
Step 4: Contract options
For this step, you will need the quote calculator handy. Input the exact location where you want your items moved to under "Ship to", the reward that was calculated by the quote calculator tab, and your desired collateral.
Under expiration and days to complete, you should input the values that are available on this page, which could be updated from time to time. In this case, i've inputted 7 days/7 days.
The description is optional, but feel free to enter whatever instructions or message you want. Finally, click on the "Next" button to go to the final confirmation window.
Step 5: Finalizing the contract
For this last step, just make sure that all the details of the contract are correct. Double check everything. After that, click on the "Finish" button, and your contract will be created. Your items will be moved soon!
INIT. Freight
INIT. Freight
is the official alliance freight service.
The managers are:
renoufchr07, Michelle Orama, Krebskasper, Ed Tivianne